"We love a challenge." - Meet Romina Oxborough, our Senior Vice President of Operations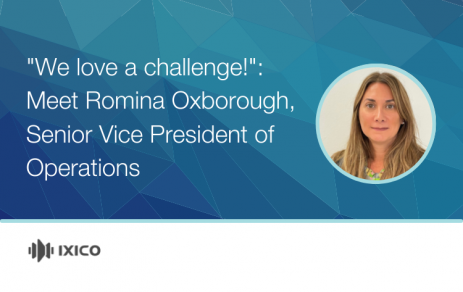 Romina Oxborough recently joined the IXICO team as Senior Vice President of Operations, bringing a wealth of experience in developing strategic services underpinned by operational delivery.
We spoke to Romina about her experience so far at IXICO and the main thing that gets her out of bed in the morning.
Hi Romina. Can you tell us what your role is and the responsibilities it includes?
I am the Senior Vice President of Operations at IXICO, which means that I am responsible for the Start-Up, Project Management, Clinical Operations and Data Management for the Company.
What are you most passionate about in your role and in your field?
It's heartening to know that we are helping patients who are suffering from devastating neurodegenerative diseases. IXICO has been finding new innovations and technologies that will achieve this since its start in 2004. It's great to be a part of that.
What are you most excited about for the future of the clinical trial and neuroimaging industries?
One of the positives of the COVID-19 pandemic has been the increased knowledge about clinical trials and treatment development with the general population. As an example, when I told my hairdresser that I worked in this space, she asked me so many informed questions about studies, how data is assessed, what an AE is and the risks. This had never happened before.
The neuroimaging space is very exciting at the moment. We are working on several very promising trials at IXICO. I hope that we get some treatments to patients soon or at least advance our knowledge, as there is such a high unmet need in this space. Neurodegenerative diseases will affect us all either directly or indirectly; the numbers are staggering.
What impact will these developments have on IXICO and your work personally?
IXICO offers cutting-edge imaging technology used in the most innovative studies and support treatment development from the early phases, all the way to post-marketing studies. We are privileged to be able to work on those very promising treatments.
Personally, it means that I can make a valuable contribution to this disease area and support patients; this is the reason I get out of bed each morning!
For you, what has been the biggest challenge during the pandemic?
I joined the team recently, so I didn't experience working here throughout the height of the pandemic.
However, IXICO did a fantastic job in quickly pivoting from being office-based to the new, more virtual world without any disruption. I think it has pushed us to be creative in the way we collaborate and demonstrated how resilient and motivated the team is to turn challenging situations into opportunities.
The clinical world faced the huge task of ensuring patient safety while avoiding interruption of treatment during lockdowns, which were different in timing and regulations across the world. We, as an industry, became even more closely-knit than we usually are to avoid disruption and continue with our mission of treatment development, despite everything that was going on.
Can you tell us what it's like to be part of the IXICO family?
I have been working at IXICO for only a few weeks but I feel I have been here for years as we have the same values and ambition to develop our teams.
What makes IXICO a great place to work?
We care for each other, we deeply love what we do and are genuinely committed to the patients. That common factor makes it such a fantastic place to work.
I love everybody's ambition and creativity. Our staff are a clever bunch with fantastic problem-solving skills. We love a challenge!
Are there any new opportunities for IXICO you can tell us about?
We keep growing and advancing in our quest for scientific excellence. We keep scanning our scientific network to find those clever solutions and ideas that will help with the next treatment. Watch this space!
---