"The team culture here is what makes us stand out" - Meet Ron Ramos, our Senior Director of Business Development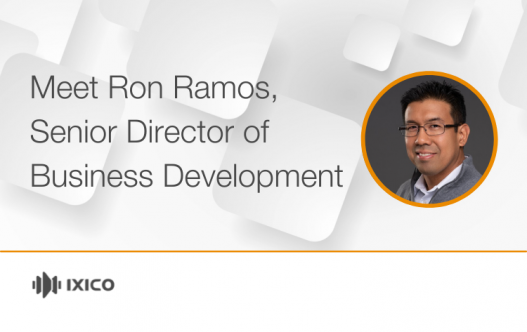 A life science professional with over 20 years of industry experience, Ron joined our team this year in our Business Development department.
His experience spans the entire drug development pipeline and is passionate about changing patients' lives for the better. Ron's expertise lies in helping people and organisations work towards improving the human condition through research and drug development.
We spoke to Ron about his love of our team culture, being in the right place at the right time, and the future of clinical trials.
Hi Ron. Can you tell us what your role is and the responsibilities it includes?
I'm a Senior Director of Business Development at IXICO. I'm in charge of increasing sales in the US by increasing new customers and growing our existing customers.
What are you most passionate about in your role and in your field?
In Business Development, it's a challenge to identify the right targets, form engagement strategies and then execute a sales process. But once those skills are mastered, it's all about scaling and repeating and I really enjoy coming up with the strategies that engage and speak to our audiences in the most effective and appropriate way.
What are you most excited about for the future of the clinical trial and neuroimaging industries?
The potential growth of these industries is huge. With demographics shifting to an older population, the need for therapies addressing neurodegenerative diseases has become more acute. The market has to address that.
I'm just excited to be in the right place at the right time, to communicate our ability to make a real impact on people.
What impact will these developments have on IXICO and your work personally?
IXICO is uniquely positioned to support the need to address neurodegenerative diseases in a way that prioritises patients. It's my responsibility to communicate our stance to the market and to let prospective customers know that we're the right team to address these needs.
For you, what has been the biggest challenge during the pandemic?
Maintaining consistent energy and urgency in all my activities, without much outside interaction has been difficult. Luckily I've been working remotely for many years, so I'm used to it! I've already developed strategies to manage the lack of real communication.
Likewise, the only real change my team has seen is less face to face interaction, which is something we've all missed. Otherwise, the process of strategy, planning and executing is the same.
What is it like to be part of the IXICO family?
It's great to be with folks that really know their stuff and that's been apparent since day one. I'm confident my existing skill set will help me communicate their knowledge, insight and expertise to the market.
The team culture here is what makes us stand out from other companies in our field. We work together and value opinions from every group and department before making big decisions. That sets an excellent foundation for growth. We're a true team.
Can you tell us what makes IXICO such a great place to work?
As a company, we're big enough to feel confident about our ability to grow the business and support larger and larger projects. However, we're still small enough to facilitate easy communication with anyone in the organization, from senior leadership on down. We've managed to achieve that perfect balance.
---